MARINA MARTINS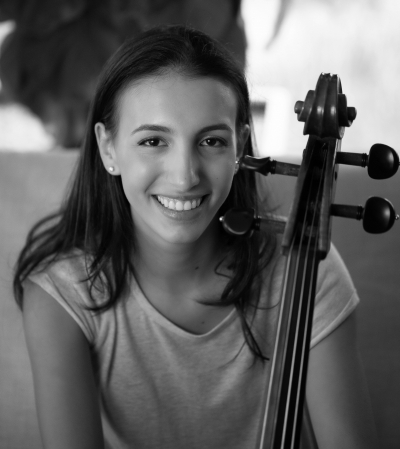 Brazilian cellist Marina Martins is a musician who has been recognized by her "great musicality, with technical demand and expression" (Pieter Wispelwey), and praised for her "unforced, yet compelling stage presence. Marina seems to have this rare combination of an uncommon intelligence and an ability to connect instinctively with the music" (Gaetan Le Divelec, Askonas Holt).
Marina began to learn the cello at the age of three. At eight, she won her first competition, and, at sixteen, she made her solo debut in Bristol, England. She has won awards in several countries, highlighting the recent 'Exilarte Preis' Award, received in Austria in 2021, and the Young Soloists Competition followed by the Eleazar de Carvalho Medal, by OSESP – São Paulo State Symphony Orchestra in 2018.
Great musicians tend to be like this: far beyond any accomplished discipline, the fruit of all those years and years of technical development, they maintain a naturality that seems to come from within the music itself. At the same time, they retain something of their own, an original and unmistakable way to go about the music. Marina Martins plays as Marina Martins from the very first to the very last note, whatever repertoire it may be. She combines intensity with discretion; and she seems to do everything over a background of serene joy, in a characteristic way that has by now become associated with herself. At age 20, she is already one of the great Brazilian soloists. One can well imagine the wealth of music still to come, much to our great fortune.
Arthur Nestrovski, Diretor Artístico | Osesp - Orquestra Sinfônica do Estado de São Paulo
Born in New Zealand in 1999, Marina moved to her parent's country Brazil at the age of five. Later, her pursuit for musical development led her to live in the United States, England, Germany and Switzerland. She was a student of Pieter Wispelwey at the Robert Schumann Hochschule in Düsseldorf for four years. Marina currently lives in Switzerland and is under the guidance of Danjulo Ishizaka at the Musik Akademie Basel.
Enthusiastic chamber musician, she has had the pleasure of performing with renowned artists in Europe such as Pieter Schoeman - concertmaster of the London Philharmonic Orchestra; Wenzel Fuchs - first Clarinetist of the Berlin Philharmonic Orchestra; and Stefan Mendl - pianist of the Viennese Trio, among others.
After her debut as soloist in 2015, Marina has performed with prestigious orchestras and conductors and her concerts have taken her to performances in England, Switzerland, Italy, France, Germany, Austria, United States, Canada and Brazil.
Marina currently performs on a cello by Giuseppe Guarneri "filius Andreae" ca. 1700 – loaned by a private collector; and on a cello by M. Sturzenhofecker Cully 2009.